DR ANDREW IVEY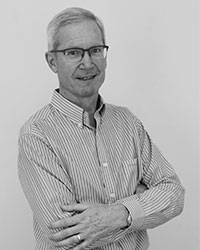 Dr Andrew Ivey was born in the UK but raised in Cape Town, where his father was a part of a busy group general practice, providing the inspiration to his entry to the medical field. He completed his medical degree at the University of Cape Town in 1986 and started training in ophthalmology in 1989, initially in the English Midlands before returning to Cape Town to complete his specialist studies.
He returned to the UK as a young consultant and qualified at the Royal College of Surgeons (Edinburgh) and the Royal College of Ophthalmologists.
He started his private practice in Cape Town in 1997, in successful association with Drs Peter Harpur and Raoul Scholtz and more recently, Dr Steven Lapere.
He provides a comprehensive ophthalmology service, and cataract surgery is the main focus of his surgical work. He worked part-time at the Red Cross Children's Hospital for fifteen years.
He served as a founding director of the Peninsula Eye Hospital and was an integral member of the team that developed the world-class facility. He has served on the Executive Committee of the Ophthalmology Society of South Africa and the Ophthalmology Management Group and continues to promote Ophthalmology Services (cataract surgery in particular) in a sustainable manner, for all in this country.
He has since childhood been a keen cyclist and enjoys riding alone or in a group, preferably on the mountain. He is married to Yvonne, a school teacher, and has two young adult sons.
MEET THE TEAM