DR STEVEN LAPERE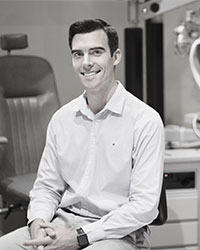 Dr Steven Lapere is an Ophthalmologist at the Melrose House Eye Specialists with sub-speciality training in all disorders of the retina (retinal detachment, macular holes, epiretinal membranes and diabetic eye disease), both medical and surgical, ocular oncology and cataract surgery.
Dr Steven Lapere grew up in Port Elizabeth. After completing his undergraduate medical degree at the University of the Free State in 2006, he went on to finish his 2-year internship at Pietermaritzburg Hospital Complex and completed a year of Community Service at Kimberley Hospital. During this time, Dr Lapere also obtained his Diploma in Anaesthetics.
After working as a medical officer at the Mankweng Eye Unit in Limpopo, Dr Steven Lapere gained interest in the field of ophthalmology and sought to attain his Diploma. Keen to further his knowledge, Dr Lapere then worked as a medical officer at the West of England Eye Unit in the United Kingdom. It is in this position that Dr Lapere discovered his passion for the diagnosis and treatment of retinal disorders.
After completing his specialist training at Groote Schuur Hospital through the University of Cape Town, as a qualified Ophthalmologist, Dr Lapere went on to sub-specialise in the field of Surgical Retina, Medical Retina and Ocular Oncology with a 2-year fellowship at the Royal Alexandra Hospital in Edmonton, Canada, through the University of Alberta from 2015 to 2017.
Since then Dr Steven Lapere has been active in academic research, has presented at numerous national and international conferences and is a member of the Ophthalmologic Society of South Africa and the American Society of Retina Specialists. His current research projects include factors influencing the outcomes of complicated retinal detachments, the effect of anti-vascular endothelial growth factors on radiation retinopathy and prognostic factors in sutureless scleral fixation intraocular surgery.
When he is not treating patients, he enjoys camping with his wife and son and is a keen mountain biker, hiker and kite surfer.
MEET THE TEAM