DR RAOUL SCHOLTZ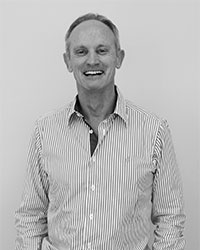 Dr Raoul Scholtz is an Ophthalmologist who has a keen interest in vitreoretinal surgery, ocular oncology, cataract surgery, and the management of diabetic eye disease.
Raoul was born and raised in Cradock in the Eastern Cape. He completed his schooling at Kingswood College in Grahamstown, before doing his undergraduate medical training at the University of Cape Town. He graduated in 1981, and this was followed by 7 years of general medicine, including a Diploma in Paediatrics at the Red Cross War Memorial Children's' Hospital in Cape Town.
He was accepted as a registrar in Ophthalmology at the University of Cape Town, Groote Schuur Hospital and completed his FCS (SA) in Ophthalmology in 1992. He was then offered a consultant post and was involved in the Retinal Clinic and Ocular Oncology Clinic for many years, initially as a full-time consultant, and later as a part-time consultant.
He has been involved in many clinical trials and is an active member of the South African Vitreo-retinal Society. He has been involved in the organising committees of the OSSA congress and the Gonin Club Congress in Cape Town. In 2018 he was co-speaker at the SAVRS meeting, presenting papers on Choroidal Melanoma and Birdshot Chorioretinopathy. He serves on the SA Vitreoretinal Society Academic Advisory Committee, assisting with the development of protocols.
He is a member of The European Society of Retinal Specialists, and regularly attends these international meetings and the Ocular Oncology workshops. He is registered on the "Eyecancernetwork" website, and is a member of the "Cape Town Ocular Oncology Service". He is a founding member of the Peninsula Eye Clinic and the Life Peninsula Eye Hospital. He operates at the Life Peninsula Eye Hospital in Claremont and has served on the hospital board for many years.
Dr Scholtz practices from Melrose House in Claremont, Cape Town, together with Drs Andrew Ivey and Steven Lapere. Raoul is a keen trail runner, mountaineer, and cyclist, always accompanied by his wife, Ruth. He has a beautiful daughter, Natalie, who is a Speech Therapist in Cape Town, and son, Benjamin, a Mechatronics Engineer and software developer.
He is the only ophthalmologist in the world who has done an appendicectomy under local anaesthetic in Antarctica!
MEET THE TEAM